Meeting the moment with wonder: mindful dialogue and inquiry in teaching MBSR/MBCT a 4-day practice retreat for mindfulness-based teachers with Florence Meleo-Meyer, MS, MA.
This retreat is organized together with Centrum för Mindfulness in Uppsala.
Retreat program
The practice of teaching mindfulness involves engaging with the present moment with curiosity, wonder and the willingnesss to be open beyond preconceived notions of ourselves and others. The responsibility of introducing participants in MBSR/MBCT classes to mindfulness meditation includes skillfull inquiry into their direct experience. With open-hearted investigation, questions are adressed, historical, self-limiting concepts are challanged, and deeper meaning is possible. Attending to ourselves and our students with this non-judgemental interest can be experienced as compassionate care.
Many Mindfulness-Based instructors find this aspect of meeting class participants challenging. The practice of mindful inquiry rests in relational presence, not technique. In this retreat the practice of mindful dialogue and inquiry will be explored and further developed.
Intentionally practicing beeing awake to one's self while engaged with another has been developed as a meditation practice by Gregory Kramer, and the Interpersonal Mindfulness Program has been fine-tuned by Florence Meleo-Meyer specifically for the work of mindfulness-based teachers.
This meditation retreat combines silent, personal practice with mutual practice in dialogue, discussion and inquiry.
Specifically designed to identify and refine the interpersonal and group dynamics skills of Mindfulness-Based instructors, the retreat will strengthen the practice of interpersonal mindfulness, and cultivate deeper familiarity with the practice of inquiry.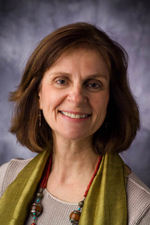 Florence Meleo-Meyer, MSc
She is a senior teacher and Director of Professional Education and Training at the Center for Mindfulness, University of Massachusetts. In her teaching, Florence combines her long-time experience in mindfulness practices with compassion and a very fine sense of humor.
[hr]
Details about the retreat
Dates and time: The retreat will start with dinner September 30:th and ends with dinner October 4:th. There will be sessions during the evenings.
For whom: This retreat is open for trainers, teachers, therapists and others who give mindfulnesstraining. Some experience in teaching MBSR or MBCT is required.
Location: Syninge kursgård close to Norrtälje (see map)
Costs: Tuition fee for this retreat is 6.400 SEK + VAT (25%) plus board and accommodation 4.900 SEK + VAT (25%). Early booking discount of 500 kronor if your booking is received before June 24th.
Total cost, including tuition, all meals and accommodation in single room is 11.300 SEK + VAT (25%).
Registration: Your place in the retreat is definite as soon as your registration form and payment has been received.